Georgia Junior Golf License Plate
SUPPORT JUNIOR GOLF WITH THE NEW GEORGIA LICENSE PLATE!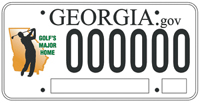 The Georgia Junior Golf Foundation (GJGF) is promoting Georgia as "Golf's Major Home" with the creation and sale of a specially designed license tag. Funds raised through the license tag program will help support GJGF's free services and resources that are provided to all junior golfers in the state of Georgia, including the following:
Georgia Junior Golfer Magazine
Junior Golf Clearinghouse
Partner, The First Tee National School Program
Statewide Clinics and Workshops
GJGF web site (www.gjgf.org)
"The new license tag was developed in an effort to promote golf in the state while at the same time benefiting young children and future players, " said Kathy Cousart, GJGF executive director. "The Foundation's goals for the tag include growing the game of golf in the state of Georgia, particulary with children and young adults."
Please support the GJGF by committing to purchase a Georgia Golf license tag, and encourage your fellow golfers to do so as well. The state requires 1,000 commitments before the tag can be produced and distributed.